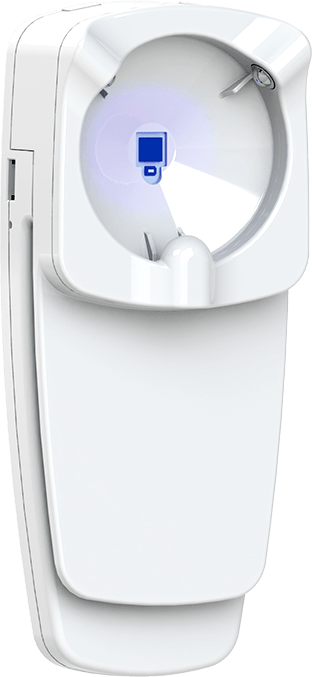 STET CLEAN

is composed of:

Stet Clean, thanks to a cutting-edge technology, is one of the first device in the world to employ germicidal LED UV.

Traditional disinfection methods are currently limited to wiping the membrane with a solution of 70% isopropyl alcohol and soapy water or with other chemical disinfectants.

For the first time, the innovation introduced by Stet Clean revolutionizes the practices linked with the use of the most common medical instrument through application of LED UV-C technology.

The action of Stet Clean begins immediately, as soon as it comes in contact with the stethoscope: establishing a series of sensor controls, activation of the LED UV-C begins an immediate disinfection of the membrane, thanks to the emission of a specific length of the UV-C wave that deactivates the DNA of microorganisms.

The unique, patented, geometric configuration of the Stet Clean cone allows the membrane of the stethoscope to be efficiently disinfected. Laboratory trials have shown how in just 60 seconds the Stet Clean technology is able to deactivate 85.5% of E. faecalis, 87.5% of S. aureus, 94.3% of E. coli, and 94.9% of P. aeruginosa (AJIC – American Journal of Infection Control); increased exposure times guarantee even higher levels of disinfection (more than 99%).
STET CLEAN
The first wearable automatic device for stethoscope disinfection, specifically designed to ensure security and deep hygiene to patients thanks to the action of UV-C LED.
---
DISCOVER THE PRODUCTS