Eurovea will become the ideal place for living and relaxing in the center of Bratislava. The central feature will be Slovakia's first skyscraper - Eurovea Tower.
Aside 285 000 m2 of office spaces, 95 000 m2 of retail spaces and 1 470 Apartments, the property also features 120 cafes, bars and restaurants.
Currently, 6 restaurants have been equipped with Light Progress UV-SMELL-SQ devices for Odor&Grease reduction inside kitchen hoods and kitchen extraction ducts.
To guarantee a great customer experience in modern and refined shopping malls, every restaurant shall keep kitchen odors under control. And prevention of flammable grease sediments inside kitchen hoods and ducts is also essential to guarantee a safe environment for visitors and employees.
The project includes restaurants from different culinary traditions, including an Indian fast-food restaurant, a German restaurant, a German restaurant with fish specialties, a Vietnamese restaurant, an Italian restaurant and a Mexican and Asian restaurant.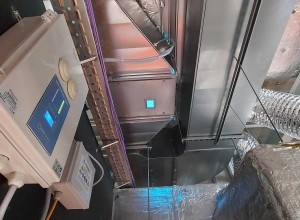 For the Italian restaurant, Ozone lamps have been the preferred choice due to the high performance of the Ozone for smell reduction inside kitchen extraction ducts.
The average extraction capacity of each restaurant is 4.000 m3/h for a complete installation of 31.600 m3/h.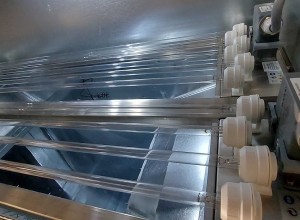 A filtration plenum has been designed, built, and installed for the application's design for every duct. The average size of each plenum is mm. 1340x400x400.